Unfortunately most of us who are in our late 30's and early 40's we are starting to experience a lack of firmness in our face and neck. The older we get, the more our skin-firming collagen and elastin fibers begin to weaken causing the dreaded turkey neck effect and sagging checks. This can be caused by many things one in particular is to much sun exposure, which can damage the collagen and elastin fibers needed to keep skin plump and supple. Smoking also contributes to your neck aging, nicotine reduces the vital oxygen blood supply to the skin, causing collagen damage. Also things you have no control over such as regular neck and head movement, can also lead to creasing by stretching the collagen fibers.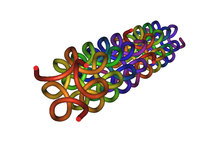 Collagen Fiber matrix
Collagen is a naturally occurring fibrous protein that is an essential basic building block of our body. Collagen forms an overwhelming one third of our body's protein and is necessary to promote and support proper joint, cartilage and skin health. With age, your skin's inner layer loses collagen and becomes less supple and firm and more vulnerable to damage. This fibrous protein provides shape, texture and resiliency for your skin. The benefits include firming of thin loose skin, smoothing fine lines and wrinkles leaving you with visibly younger-looking supple skin.
BUY NOW
Premature neck drooping can be prevented with the daily application of our Genesis Collection Face & Neck Firming Lotion. This advanced skin care product is an anti-aging, firming lotion loaded with peptides which help damaged skin cell increasing their ability to produce more collagen and elastin. One peptide in particular Acetyl hexapeptide-8(Argireline) helps restore elasticity and tone for visibly firmer face, neck and decollete area.  The neck area has less fatty tissue, making the skin less elastic. As a result, the skin in this delicate zone can become far more wrinkled, saggy and pigmented than that on our face. Unfortunately, once the damage is done to this thin skin, it can be the most difficult area to treat.  This advanced formula also combines Aloe, Sunflower Oil, and Coconut Oil which are all loaded with skin benefiting antioxidants for even more firming capabilities.
It's priced at 31.95, the 2oz bottle should last approximately 2 months a small amount is all that is needed. It should be used after cleansing face and neck in the morning and again at bedtime when skin renewal is most productive. Genesis Collection Face & Neck Firming Lotion is designed for most skin types.