by Amaranthine Skin Care
To enter the Green Apple Eye Serum Giveaway and win the free 15ml bottle (2-3 month supply) you must subscribe to our blog http://amaranthineskincare.com/blog/ and comment below saying enter me, or to let us know why you would like to win this fabulous eye serum, or just to say Hi. For a second entry to win LIKE our Facebook https://www.facebook.com/amaranthineskincare and post a comment. This Giveaway will run from 03/30/2016 and end 04/30/2016.  The winner will be chosen randomly and the prize will be sent directly to the winner from Amaranthine Skin Care. Please allow 1-2 weeks for shipping & delivery.  You must be over 18 years of age and you guarantee that you are eligible by entering.  No purchase is necessary. Good Luck:)
A great eye serum is even better when it's FREE will you be the lucky winner?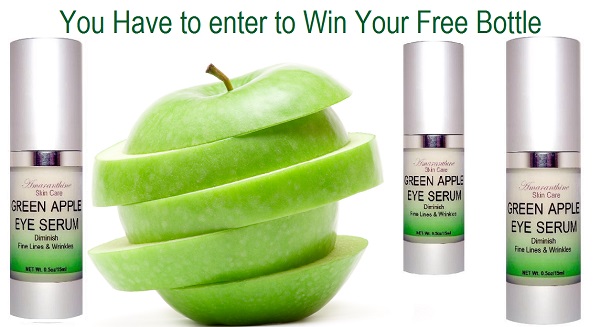 Discover The Power Of Green Apple Eye Serum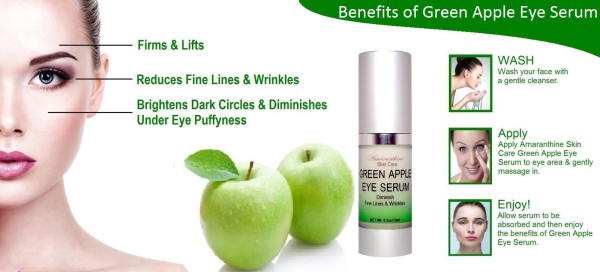 Dull, tired, wrinkled, sagging skin around your eyes is caused not only by age but poor diet, sun exposure, environmental pollution, smoking, lack of sleep and exercise. It's important that you use a product designed specifically for the eye area that can protect collagen deterioration and free radical damage that effects the delicate skin cells around your eyes. Green Apple Eye Serum is loaded with a potent blend of antioxidants, CoQ10, Vitamin E, Lipoic Acid and Aloe that helps repair damaged skin cell, and increases the cells ability to repair and produce more collagen resulting in a more youthful complexion
Green Apple Eye Serum is an age-defying eye treatment clinically proven to brighten the skin around the eyes while it firms, tightens and reduces fine lines and wrinkles with a moisturizing cocktail of anti-aging peptides. The two main peptides are: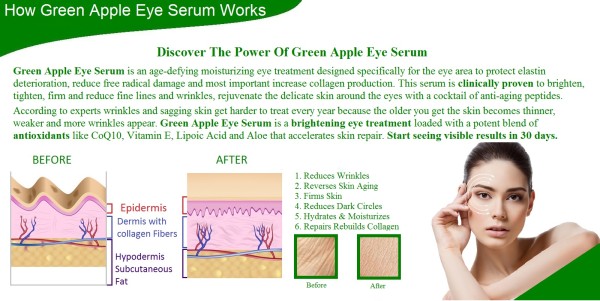 *Acetyl Tetrapeptide-5 also known as EYESERYL®. Laboratory testing strongly demonstrates this ingredient's ability to correct fluid retention in the facial areas and dramatically reduce the decomposition of collagen. Acetyl Tetrapeptide-5 has been proven effective in reducing puffiness related to under eye bags.
*Retinyl Palmitate studies show it plumps the skin and increases collagen production improving skin elasticity and enhancing the texture and smoothness of skin.
The eye area is ten times thinner than rest of our face making this are so fragile. As we age we naturally loose collagen causing the skin to become even thinner and less elastic. Skin care experts are saying "as time goes by it gets harder to treat wrinkles" that is why you should start using an eye serum starting in your early 20's to ensure the least amount of damage is done to this fragile area. Amaranthine Skin Care Green Apple Eye Serum is specifically designed to increase collagen production.
*For best results use this after cleansing your face in the morning and again before going to bed. You can use this under make-up or other moisturizers. Start seeing visible results in 30 days.
Best of luck to all who enter our Green Apple Eye Serum Giveaway.